STAND TALL
---
GAIN CONFIDENCE
---
CONQUER
UNLEASH YOUR POWER WITHIN
Try our free Mini Course first
'PEACEFUL WARRIOR' COURSE
Enter your name and email below and we will send you this powerful Shaolin Kung Fu mini course for free! In the mini Peaceful Warrior course, you will learn how to use eye contact and confidence to stand tall and gain respect!
UNLEASH THE WARRIOR WITHIN
When you develop your body structure properly, your mind and your breath work so much better. And you project body language that commands respect.
When you train body and breath together your voice gains true quality and power. You gain the ability to motivate, inspire and command.
When you train your eyes properly, your eye contact becomes one of your strongest assets. Your gaze says more than a thousand words.
When you know that you can handle conflict, your confidence knows no limits. Your self esteem becomes rock solid.
Shaolin Kung Fu can help you stand tall, gain confidence, and conquer!
Kung Fu has a track record of turning ordinary people into extraordinary people. It works. And no matter how the world changes, it will continue to work because it is based on the most fundamental realities of human psychology and physiology.
Kung fu has worked for generations of people and it can work for you. It will give you the tools to turn your dreams into reality, to manifest your destiny.
Now is your time to rise and to inspire others to do likewise.
Let nothing hold you back.
This program is designed for you to train from home without needing any special equipment.
Regardless of your current fitness level, this program will help you forge a strong future.
You will not be alone – you will connect with our team of Instructors and students all over the world.
UNLEASH YOUR POWER WITHIN
Here's everything you get with this brand new online Kung Fu course, "Unleash Your Power Within " taught by Master Iain, including LIVE TUITION & FEEDBACK from Senior Nam Yang Instructors!
Tiger Crane Combination Kung Fu (value $799)
(value $799)
This is the real Kung Fu, Southern Shaolin, undiluted, undiminished.
Complete the foundation level and achieve certification.
Stance, posture, body structure, body mechanics.
Sum Chien (3 battles) the most famous and most fundamental of the martial arts routines which is practiced in both Kung Fu and Karate.
Essential attacks and defences.
Basics of internal power.
How to apply the Kung Fu techniques in a violent confrontation.
Developing your techniques with pads and punchbags.
Kung Fu philosophy.
Kung Fu ethics and morality.
Includes 40 video tutorials of an easily digestible length. Mostly 3-7 minutes but up to 14 minutes.
Also includes supporting documents, videos and slide shows.
Masterclass 1: Stance and Stability (value $399)
(value $399)
This masterclass delves into the application of Taoist philosophy to Kung Fu.
How to overcome force with emptiness, the power of flexibility, the bamboo principle:
'strength is like a reed which bends in the wind', influencing mindset through the physical body:
Body structure
Body mechanics
Stability
Grounding
'Rooting'
Includes 15 video tutorials.
Masterclass 2:
Fighting with the Tiger – Crane Art (value $399)
(value $399)
How to successfully apply your Kung Fu in a fight! Your game plan and tactics on the physical, mental and emotional battlegrounds.
Many of the lessons are based on Sun Tzu's famous strategy text 'The Art Of War' and, just like that text, can be applied to modern business, political and social situations just as well as they were to ancient battles.
Penetrative close range power
The importance of touch contact
Body mechanics
Strategy
Psychology, mindset
Includes 15 video tutorials.
Live Video Tuition Package (value $499)
(value $299)
There is no substitute for a real teacher so we include 3 x 20-minute lessons by video link with one of Master Iain's most experienced instructor team who will help you plan your training, answer your questions, give you feedback and provide motivation for you.
Live Monthly Meeting With Master Iain (value $499)
(value $499)
Master Iain conducts a monthly online meeting during which he answers questions and gives advice, usually in relation to his monthly 'open access' class. For the duration of your course will be sent the meeting codes so that you can take part. This is an exclusive monthly meeting for those who are working through "Unleash Your Power Within".
Kung Fu Lessons for Winning in Life (value $250)
(value $250)
A series of 10 special lessons on how to lever in your Kung Fu training to win in business, at work, in social situations and when 'out and about'. This is the stuff that other courses miss out! It is all very well having the skills. But can you make them work for you? If not what was the point?
Fascinating and often amusing content which may completely alter the way that you look at things!
Grading & Certification (value $150)
(value $150)
A 'grading' is a martial arts test. Pass this and you progress to the next level. So as to make sure that you are ready for the test we conduct a 20 minute 'pre-grading' during which you run through the test with the examiner giving you feedback and advice. You will then be entered for your grading and, on passing, receive your certification.
Pre-grading and grading are conducted by live video link, certificate is sent via email as a printable PDF.
PLUS THESE
Bonus 1: Bodhidharma's Vein Tendon Chi Kung Course – Part 1 (value $150)
(value $150)
Chi Kung (Qigong) is the Chinese art of energy cultivation.
Bodhidharma's Vein Tendon Chi Kung is a very simple yet highly effective system of Chi Kung which develops strength and elasticity in your fascia (sinew, tendon), opens and nourishes your joints and facilitates an increased flow of Chi (energy) through your meridians.
It is often practised alongside Kung Fu so as to enable your body to cope with the demands of regular training.
Includes 7 video tutorials.
Bonus 2: When losing is not an option (value $399)
(value $150)
Our advice: avoid violence. Full stop! Reality: everyone should be prepared just in case, through no fault of your own, you have to face violence.
This is a series of 21 basic lessons on how to apply your kung fu skills in just such a situation, from restrained through to decisive tactics:
Taking advantage of pressure points
Tripping someone to the floor
Control and restraint through joint locks
Disarming opponents attacking with weapons.
Winding someone
Sudden explosive strikes
Breaking the collar bone
Ripping off ears
Note: We only ever apply this knowledge when the situation fully justifies it.
Bonus 3: Ongoing Training Voucher (value $250)
(value $250)
We very much hope that this 12 week course will instill in you the passion for Kung Fu that we have.
You also get a $250 discount voucher to help you progress to the next level of training. This can be used for ongoing ONLINE training OR physical packages at Nam Yang Kung Fu Retreat.
'To succeed in Kung Fu you need do only two things: start….. and not give up!'
– Grand Master Tan Soh Tin
If you're ready to forge a new, powerful future, then it's time for you to step up and be accountable. Nothing will change until you do. Let Shaolin Kung Fu help you unleash your power within!
The best time to plant a tree was 20 years ago. The next best time is now.
(THIS OFFER WILL EXPIRE SOON)
Master Iain is the founder & current Kung Fu Master of the world's first 'Kung Fu Retreat', deep in the forested mountains of Thailand's most remote province.
He is the inheritor of one of the world's most respected Chinese Kung Fu lineages which can be traced right back to the founding Masters of Shaolin Kung Fu 1,500 years ago! Master Iain is the first non-Chinese Master in the 'Nam Yang' lineage.
2 x World Championship Titles in Kung Fu;
Former street fighter and nightclub doorman;
40+ years experience in Shaolin Kung Fu
Trained 4 world champions, stunt men and women, military special forces, security forces, police, celebrities, high ranking politicians, and corporate executives;
Has students on all major continents and has taught and demonstrated around the world;
Recognized by the Queen of England on her Golden Jubliee;
Presented with the High Sheriff of Surrey's award for Crime Prevention for his work on eliminating juvenile crime in parks;
Columnist for Combat Magazine – the UK's leading martial arts magazine at the time, featured in martial arts publications in Germany, Singapore and the Philippines.
Author of 'Get Your Health Back FAST With Chinese Chi Kung'.
Coach for the British International Full Contact Kung Fu Team;
Judge at the World Wushu (Kung Fu) Championships in Hong Kong 1999;
Executive member of the British Council For Chinese Martial Arts, Britain's National Governing Body for Kung Fu.
Member of the 'Combat Hall of Fame'
Founder of Nam Yang Kung Fu Retreat, considered one of the top residential Kung Fu schools in the world.
Trained by Grand Master Tan Soh Tin.
Our online course makes Shaolin Kung Fu accessible to anyone, anywhere. Shaolin Kung Fu teaches you how to unleash your power within. This is pure, undiluted Shaolin Kung Fu.
With an authentic lineage of Masters that can be directly traced back 1,500 years to the founder of Shaolin Kung Fu, Nam Yang continues to offer the transformative power of Shaolin Kung Fu to all those who seek self mastery.
HERE'S EVERYTHING YOU GET…
Tiger Crane Combination Kung Fu (Value $799)
Masterclass 1: Stance and Stability (Value $399)
Masterclass 2: Fighting with the Tiger – Crane Art (Value $399)
Live Video Tuition Package (Value $299)
Live Monthly Meeting With Master Iain (Value $499)
Kung Fu Lessons for Winning in Life (Value $250)
Grading & Certification (Value $150)
PLUS THESE GREAT BONUSES:
Bodhidharma's Vein
Tendon Chi Kung Course – Part 1 (Value $150)
When losing is not an option (Value $399)
Ongoing $250 Training Voucher (Value $250)
This offer will expire soon!
WHAT CAN YOU
EXPECT FROM LEARNING KUNG FU?
STAND TALL
We constantly read each other's body language. What does yours say? If it says anything other than 'winner' and 'pay attention to me' then you are heading for problems. Take a look at some Kung Fu Masters. What does their body language say? How would you treat them?
LOOK THE
WORLD IN THE EYE
Strong eye contact is one of the most powerful weapons available to you and it is still legal under all circumstances! The eyes are the mirrors of the soul. And they seldom lie. When your eyes reveal your power within, people take notice.
SPEAK
FROM THE HEART
Or better still from right down in your belly. Kung Fu teaches you to breathe from your abdomen and it strengthens your chest and neck which act as amplifiers for your voice. The result is a powerful, resonant voice which commands respect – and gets it!
BE CALM IN CRISIS
Learn to sink your Chi (energy) and to keep it sunk. Arm yourself with a Zen mind. Think before you open your mouth. Become a calm, dependable pillar of strength that those around you can turn to for support and leadership.
MASTER YOUR BREATH
There is a saying that the most powerful person in the room is the one with the calmest breathing pattern. We notice this – but we don't notice that we notice! Breathe like a Kung Fu monk and command the room.
RESPECT YOURSELF
If you don't respect yourself do you really expect others to respect you? Kung Fu means work but putting in the hard work on yourself leads you to respecting yourself and believing in yourself in a way that shines out for all around you to see.
ATTAIN
PHYSICAL ZEN
Relaxation, tranquility and ultimate calm at the level of the body. Achieving 'Zen' in the body facilitates 'Zen' in the mind – and vice versa.
UNLEASH 
YOUR POWER WITHIN
In this time of change, people need leaders. Equip yourself with the skills, root yourself in strong, positive values then rise up and take the lead!
A Word From Master Iain
To: Aspiring Kung Fu Students
The Odds Were 50 to 1…
I didn't hesitate – I knew I was going to win because I always did. And I am going to tell you why. I strode off though the grey drizzle towards where all the noise was coming from. It was about 11.00 pm, the park was mostly deserted and the shadows were deep. I had been offered a great deal by the local government to clean up the park for them!
This week the group of teenagers who had turned up with the big bottles of cheap alcohol was larger than usual. Fifty or more. And they were huddled up right near the fence backing on to the house where the couple who acted as police liaison for the park lived. The police would be called very soon, which was not what I wanted.
I did my usual thing and strode straight up to them. I needed to find a ringleader if there was one and I know that only ringleaders will make eye contact – the rest look away. I found a young guy, about 17, who had the confidence to hold eye contact and struck up a conversation with him.
This, of course, grabbed the attention of the rest of the crowd. I must have looked a bit strange as I was still wearing my kung fu trousers but had a thick leather jacket on which would give a certain amount of protection against stab wounds. Their conversation was amusing.
No one was quite sure what to do. One was suggesting that they rush me while his desperate friend was trying to shut him up 'Don't you know who that is? He is the boss of the Martial Arts Centre! He's a bloody Kung Fu expert!'
Although I had my fists ready I seldom needed them. My eye contact, body language, voice, confidence and energy were strong enough that no one wanted to take the chance. So they just listened while I talked them into heading off towards some shelter in an area of the park right away from any homes where they would be left alone. Which was all they really wanted. And off they went, all 50 or so of them!
I cleaned up that park, got a 10 year rent free deal on my Martial Arts Centre building and received the High Sheriff of Surrey's award for crime prevention!
READ MORE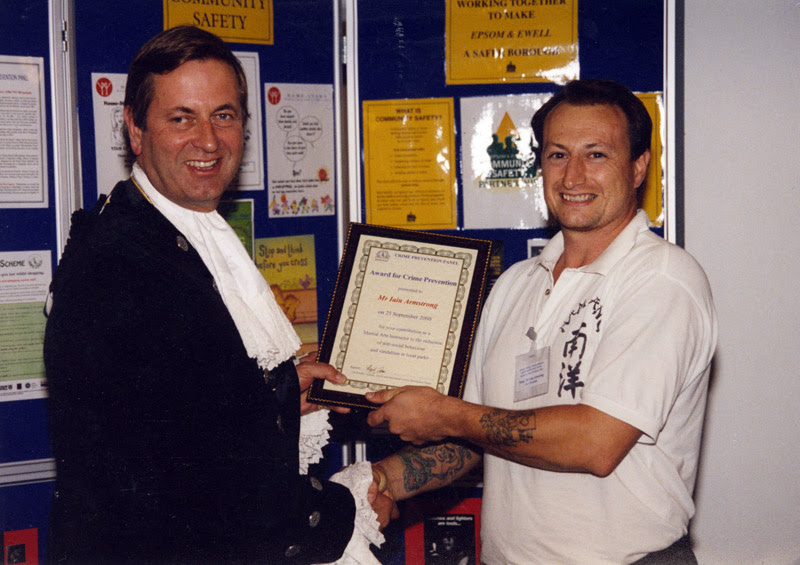 This was not a one-off thing!
I used the same formula week after week in the park, and on nightclub doors where I worked security. I have used it when confronted by some proper gangsters, by police armed with submachine guns and stun grenades, and even one of the Chinese Gods who guards the gates to hell!
And now, I teach these exact same things to others.
TEACHING KUNG FU
I first started teaching Kung Fu in 1987. At that time I was focused on producing fighters. We were a tough group but tough guys die, tough guys go to prison and my students were starting to go these routes. And it is just a waste. I care about my students and I give all my time and energy to developing them. I want to see them rise up. I had been lucky enough to avoid the pitfalls myself and to reach a stage in my Kung Fu where I thought more like a general than a footsoldier and, what is more, I knew exactly which elements of the training had got me there and why. So I started to train my students like the generals of the future. And it worked.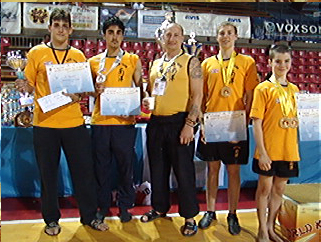 In the park in Epsom where this story began I trained a whole group of teenagers. They won five world championship fights, countless national medals ad the British Lion Dance Championship. They performed for the Queen and the Prime Minister. They travelled to Singapore, Thailand, Italy and Dubai.
Making a difference.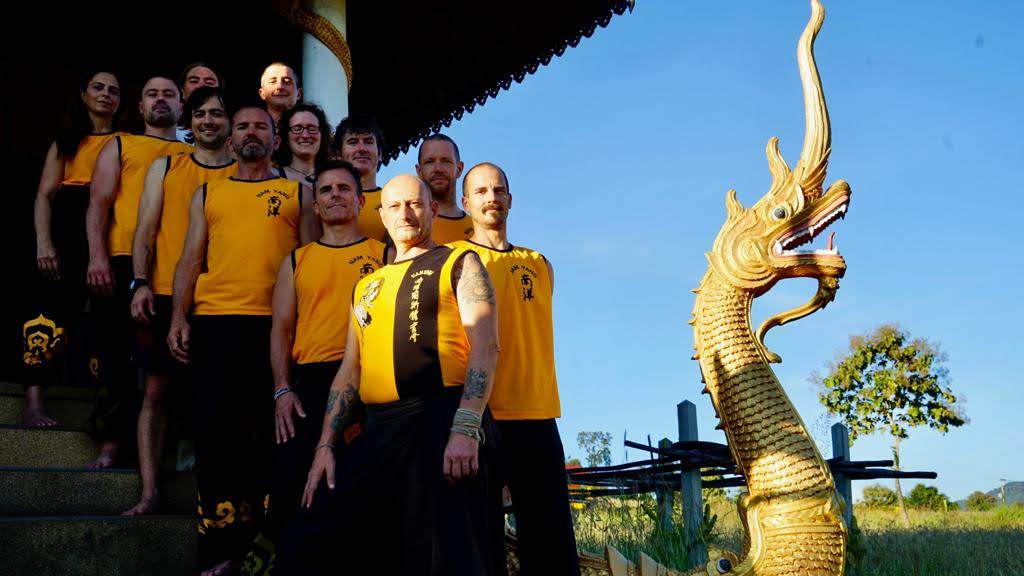 I later set up the world's first 'Kung Fu Retreat'. Based in the forested mountains of Thailand's most remote province it attracts exceptional people from all over the world. And sometimes I travel out to train someone really special. I train business people, company executives and politicians. I train military and security personnel. I train all sorts of interesting people.
I build their confidence, I build their energy, I build their personal power. As far as is possible in the time that I have with them I try to give them the energy and the spirit of those old Kung Fu Masters.
UNLEASH YOUR POWER WITHIN™
And now suddenly everything is changing. Changing faster than it ever has before. And whilst we used to laugh at the idea of people learning Kung Fu from books, videos or – worst of all – movies, technology has reached a level where it is entirely possible to learn online. Indeed, due to lockdowns and similar, it is now becoming the norm!
I have used my experience of teaching so many people Kung Fu to put together this online course. It is good and, very importantly to me, it is genuine. I studied hard to get this knowledge, I am proud of it and I believe in it. I believe that it can change people and that it can empower them to rise up as leaders and influencers and bring success to whatever or whoever they represent. Most excitingly I believe that it can enable people to inspire and empower those around them and by doing so make a real difference.
I invite you to join our online training so you to can unleash your power within!
P.S. To learn the material covered in this course live at Nam Yang retreat will cost you nearly $2,000, along with your travel expenses on top.
P.P.S. There has never been a better time to take control of your destiny. The world has changed – are you ready to step up, stand tall, and conquer?
'To succeed in Kung Fu you need do only two things: start….. and not give up!'
– Grand Master Tan Soh Tin
If you're ready to forge a new, powerful future, then it's time for you to step up and be accountable. Nothing will change until you do. Let Shaolin Kung Fu help you unleash your power within.
The best time to plant a tree was 20 years ago. The next best time is now.
This offer will expire soon!